Vision, Ethos & Values
Growing and Achieving Together
Community, Respect, Self-Belief & Ambition
Vision Statement:
To maximise the potential of all our children and staff by providing an excellent learning environment that is at the heart of the local community.
Grove Road Primary School is part of the Ridgeway Learning Partnership (RLP) Multi Academy Trust. As a founding member, alongside Tring School, Grove Road Primary School has been instrumental in designing and implementing innovative and effective processes and structures that enhance its pupils' journey from Reception to Y7.
The RLP MAT has promoted greater staff alignment across the two schools and the leadership of GRPS and Tring School, including governors, collaborate regularly and openly as part of its commitment to ongoing improvement through learning from and with others. GRPS has an ambitious strategic plan that is focused on creating an inclusive, safe environment, designed and resourced for long-term exceptional outcomes. The leadership team and strategic priorities within this plan are guided by the HfL Great School Framework and are underpinned by clear evaluation and reflection mechanisms that will support successful delivery and outcomes.
The school's leadership, staff and wider community will be focused on ensuring pupils' attainment and progress is maximised and that they all receive a rounded, broad, rich learning experience, delivered by high quality, teachers who feel valued.
Grove Road Values
The values were agreed after consultation among all members of the Grove Road community. The result has been the creation of the Tree of Values. At our roots we have the values of Respect, Self-Belief and Ambition. These feed into the strength of our Community, the trunk. These are our core values upon which we base our teaching and learning and our vision for the future.
The leaves display the behaviours that our core values promote: Independence, Determination, Communication, Curiosity, Friendship, Achievement, Confidence and Creativity. It is here too that you find our four Learning Habits which are central to our language of learning at Grove Road. Overarching our Tree of Values, is our clear statement of intent, our shared purpose at Grove Road, that as a community we are "Growing and Achieving Together" These values are promoted and discussed through-out the school day. This gives pupils' a clear understanding of the learning behaviours and qualities which we promote and nurture at Grove Road Primary School.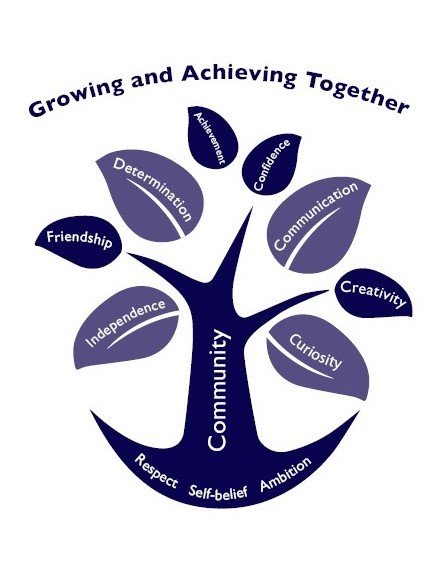 Grove Road Ethos
At Grove Road we endeavour to model our values and ethos at every opportunity. They are intrinsic to every interaction, decision and choice.
Grove Road is an inclusive and nurturing community, where we promote an ethos of respect and empathy to ensure that pupils feel safe and supported. Pupils are encouraged to share any worries and know that mistakes are a valuable learning opportunity. Our therapeutic approach underpins both the quality of education and behaviour management, so that pupils know adults will listen to them and respond calmly and fairly.
When asked what it feels like to be a pupil at Grove Road Primary school pupils use adjectives such as:
safe
supported
happy
excited
protected
friendly
listened to