Friends Of Grove
Getting Involved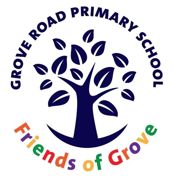 Friends of Grove (FOG) are a registered charity who, through a number of events, raise funds for extra facilities and equipment for Grove Road Primary School. It is a great opportunity to meet other parents and we have representatives from FOG in all year groups to pass on vital information and co-ordinate class efforts towards fund raising.
The fundraisers are family of pupils, plus members of staff, who want to contribute to the school community by organising our regular events throughout the year. These include our Summer and Christmas fetes, discos, cake sales, book fairs, "freeze pop Fridays" and uniform shop. We also hold additional events, such as fashion shows, brewery tours and themed quizzes and film nights for the children.
In recent years our fundraising has provided playground and play equipment, entertainment for the children, school hall refurbishments, themed learning days, library refurbishments and even a nursery chick project to support our Growth and Development phase of the curriculum. The children have also benefited in class from interactive whiteboards, iPads, laptops and Chromebooks, again funded by FOG events.
Every family joining Grove Road School automatically becomes a member of FOG. We hold regular meetings, to which everyone is welcome, and would love to hear from you. We welcome new and fresh ideas and you don't need any particular skills. Just come along and have fun!
We look forward to meeting you.
You can email Friends of Grove at friends@groveroad.herts.sch.uk or leave your name and number with the school office.
Here are a few other things that are going on that may interest you:
School Link Books
Our school link number is 0005222312. Check out their website www.schoollink.co.uk , as well as offering some amazing deals on books if you place an order and quote our reference number you will generate commission and earn free books for our school.
Yellow Moon
Our source code is SGR1528. Any products ordered from their catalogues or their website www.yellowmoon.org.uk using this source code will generate 25% cash-back to our school.